DiaShine® Chairside Starter Kit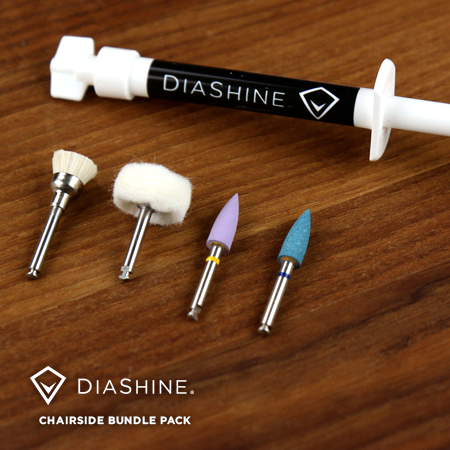 DiaShine® Chairside Starter Kit
The essential items you need to re-polish any restoration post-adjustment from PMMA to Zirconia. Includes:
- (1) RA LATCH DFD701 - DiaFlex Dentist Medium Blue Pre Polisher
- (1) RA LATCH DFD955 - DiaFlex Dentist Fine Pink Polisher
- (1) DiaShine Intra Oral - Diashine Intra Oral 2g: The Fine grit DiaShine for chairside polishing. Eliminates cross contamination and easily re-polishes any restorative material after adjustment.
- (2) RA LATCH 100-08 Cup Brush - 8mm Soft Bristle Cup Brush for Intra-oral applications with DiaShine.
- (2) RA LATCH 300-14 Cotton Wheel - 14mm Layered Cotton Wheel for post polish buffing.